Best fights for Android in 2020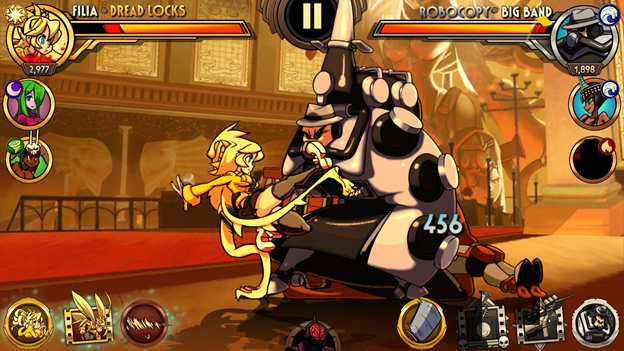 What games to play in lessons or in pairs? Of course fighting games! This article presents the best fights for Android in early 2020. We have prepared both options with better graphics and games, where the speed of your reaction and ingenuity can become the main force influencing victory. We are waiting for your options in the comments to the material!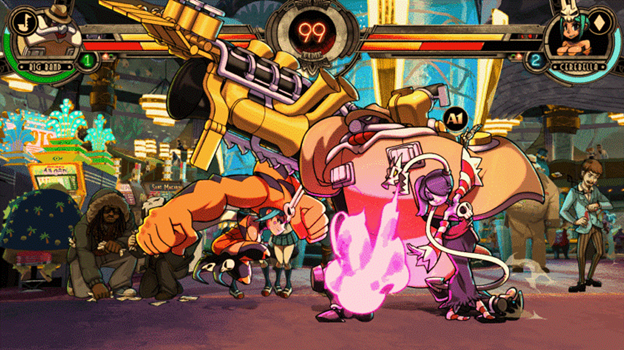 Final Fighter – an arcade game with beautiful graphics
The game offers console-level graphics, the gameplay trailer above shows this. In addition, Final Fighter is a classic arcade fighting game where one joystick and two or three buttons are used as control. The game needs to be constantly connected to the Internet, as its main gameplay takes place online. You can play both in duel mode and in team battle (3 vs 3). It offers many interesting characters and an interesting storyline, which begins its journey in 2050. Final Fighter can hardly be called a full-fledged console, but there are basic combinations, strokes, jerks, special tricks and endurance management.
Footsies – when reaction and cunning are most important
Footsies puts in the first place the most important feature of old fighting games – footsys. There is only one attack button, but with it and predicting the opponent's behavior, you can win a round. There is no health level in the game, and you can win an opponent with a special attack.
Footsies allows you to block attacks 3 times per round. The game features 2 regular attacks and 2 special ones. To make a special strike, it is necessary to hold the strike button, and you can convert a normal attack to a special one if the strike is made after an attack or defending the enemy by repeated pressing. Footsies is a rather complicated game for those who like to read enemy movements. In addition, it is free, but there is advertising here.
Shadow Fight 3 – smooth animations and beautiful graphics
The main advantage of the game can be called stunning and very smooth movements of the characters. In addition, Shadow Fight 3 seriously improved the graphics in comparison with the second part. This is an ordinary, but very high-quality and pleasant fighting game that will appeal to all fans of this genre. In addition, the game is free.
Skullgirls – interesting style and elaborate animations
In 2013, Skullgirls was released on Steam. And after 7 years, owners of Android smartphones can enjoy it. This is one of the best 2D RPG fighting games. The levels here are made in the style of dark deco. In a compartment with amazing graphics, Skullgirls looks very interesting. In addition, it offers many different combinations, interesting animations and impact effects. By the way, thousands of animations were drawn by hand. The game also offers unique controls adapted for mobile devices. It is suitable for both experienced players and beginners.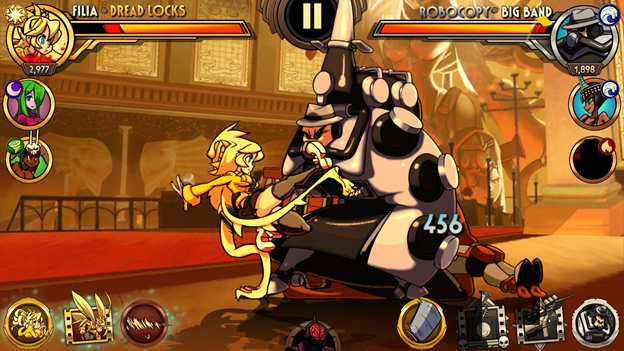 Skullgirls has several modes. In Versus mode, you can fight with other players online in real time. In story mode, you must find SkullGirl before she destroys the New Meridian. There is a quick game mode where you can compete with other players to open new characters. The game also offers daily events for each character and "foreign" battles. You can try yourself in training mode. Developers are preparing new modes in the future, so you won't be bored. Let's discuss the game of Telegram.
Prizefighters – Boxing Fans
Do you like boxing? Then Prizefighters are made for you. The game is made in pixel style, and the player's task is to press the hit button in time at the moment when the enemy opens. The game has a story mode. To unlock new skills, you need to improve your level. Prizefighters offers weekly online competitions. There is a list of leaders, private chats, as well as a list of friends. The game supports gamepads, it is possible to fully customize your fighter.
Fighting Ex Layer -α – a console level game on PC
Fighting Ex Layer was first introduced on PC. Later, she appeared on mobile devices. The game offers adapted controls using gestures, which makes it unique. In addition, there is amazing graphics and many combinations that can be obtained by combining various gestures. Of the shortcomings, it is worth noting the lack of diversity in the choice of characters.