Google Stadia will support new phones and control without a gamepad
Since its launch, Google Stadia has been slowly gaining support for new Android phones outside the Google Pixel series, for which the search giant has often been confused by users. With the release of Stadia version 2.19 for Android, much seems to change: Google plans to allow the launch of the game service on phones that have not yet been "certified", as well as add other new features. Does this mean that it will be possible to play games from Stadia on any smartphone with suitable technical characteristics?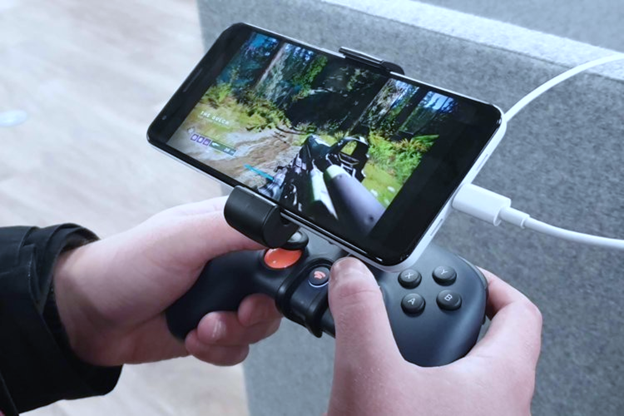 According to 9to5Google, in the details of the update description, there is text describing the user's phone, which is currently not supported by the Stadia service. There is a mention that the user can select the "necessary game parameters", which may entail a risk of performance degradation. The wording, as is often the case with Google, is very vague, but with a high degree of certainty, we can say that we are talking about phones that currently do not support Google Stadia. It is for them that "performance reduction" at maximum gaming settings may be relevant.
The meaning of the Google Stadia service is that it is cloudy. With it, you do not have to download games to your device. Just buy the right game and you can safely play on almost any device. However, despite this, the list of smartphones supported by the service is still seriously limited, although Stadia was launched at the end of last year.
What smartphones does Stadia support?
Now you need a joystick to play Stadia
At first, only owners of Pixel smartphones could run Stadia at all, but over time, the list of compatible models has greatly expanded. Here is a list of all supported phones today:
Pixel 2, 2 XL, 3, 3 XL, 3a, 3a XL, 4, 4 XL
Samsung Galaxy S8, S8 +, S8, S8 Active, Note 8
Samsung Galaxy S9, S9 +, Note 9
Samsung Galaxy S10, S10 +, Note 10, Note 10+
Samsung Galaxy S20, S20 +, S20 Ultra
Asus ROG Phone, ROG Phone II
Razer Phone, Razer Phone II
Of course, there are ways to get Stadia to work on other devices (unofficial), some are sometimes published in our Telegram chat, but they are performed at your own risk and often do not work. It is expected that the innovation that Google is preparing in its gaming service will change this and greatly expand the list of supported smartphones for Google Stadia. Thus, users do not have to turn to "crutches", and they can play at their pleasure.
Among other expected innovations in Google Stadia, the publication calls control in games only using the touch screen of the phone. Now, by default, to run Stadia, you need not only the smartphone itself but also the game controller. There is even an official Stadia gamepad, but DualShock 4, Xbox One Controller, Steam Controller, and others work. The new function will allow you not to buy a joystick at all and play exclusively with the touch buttons on the screen. A similar approach was implemented by Apple in its Apple Arcade service: by default, you can play any game using the screen, but if you wish, you can connect an external controller to games that support it.
Touch control will let go of controllers
And not so long ago it became clear that the Google Stadia controller can monitor users.